Suburban Jungle helps people find their happy place. Anyone that has purchased a home has heard the mantra: "location, location, location," and that's exactly where Suburban Jungle fits into the home buying equation. Before purchasing a home, Suburban Jungle helps you find the perfect neighborhood for your family.
Suburban Jungle is focused specifically on helping urbanites who are looking to move to the suburbs. Suburban Jungle's founder, Alison Bernstein came up with the idea when she looking to move her family from New York City to the suburbs. She, like many families in New York was looking to leave the hustle and bustle of the city and find great schools for her children but didn't know which of the dozens of suburbs would be right for her family. She knew her friends were struggling with same problem and knew she could help solve it.
Suburban Jungle solves this problem with the right combination of people and technology. They have a team of award-winning strategists who work in tandem with local neighborhood specialists, who are often former Suburban Jungle Clients, to help home buyers find their perfect neighborhood.

Here's exactly how Suburban Jungle works:

A prospective homebuyer will visit their website and fill out a questionnaire.
Then, you will get matched with a strategist
Your strategist will learn exactly what your family is looking for and recommends a a few suburbs in the form of a town report. Click Here to see a sample one
Your strategist will then pair you with a local specialist from each town who will show you around and provide you with real insight on what it's like to live there.
You will narrow down your list to the right town for your family. Then your strategist will pair you with a real estate agent.
Your agent will help you find your happy place and hopefully you recommend Suburban Jungle to your friends.
While this process is pretty straightforward, there is some serious technology powering the experience. That's where Reliable Bits comes in. We act as their technology and design team. We've built everything from the ground up on the most modern tech stacks. Here's all the Suburban Jungle technology properties:
Strategist Jungler – that's their in-house custom CRM, where the team manages the client's entire experience with Suburban Jungle. Strategists can reach out to clients and agents directly through the Jungler.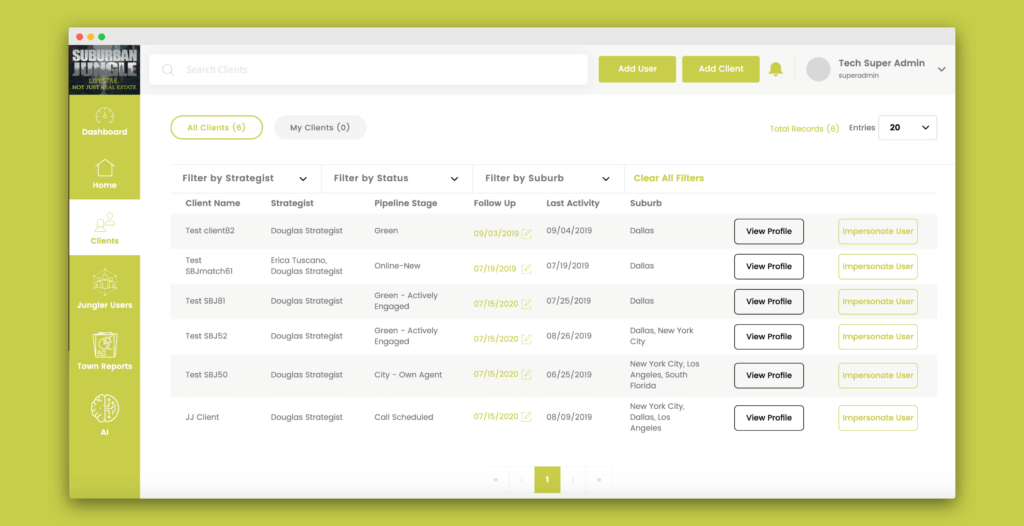 Agent Jungler – Agents manage their Surban Jungle clients and communicate with strategists and clients.
Client Jungler – Clients can view their town report, chat, and schedule meetings with their strategist and agent.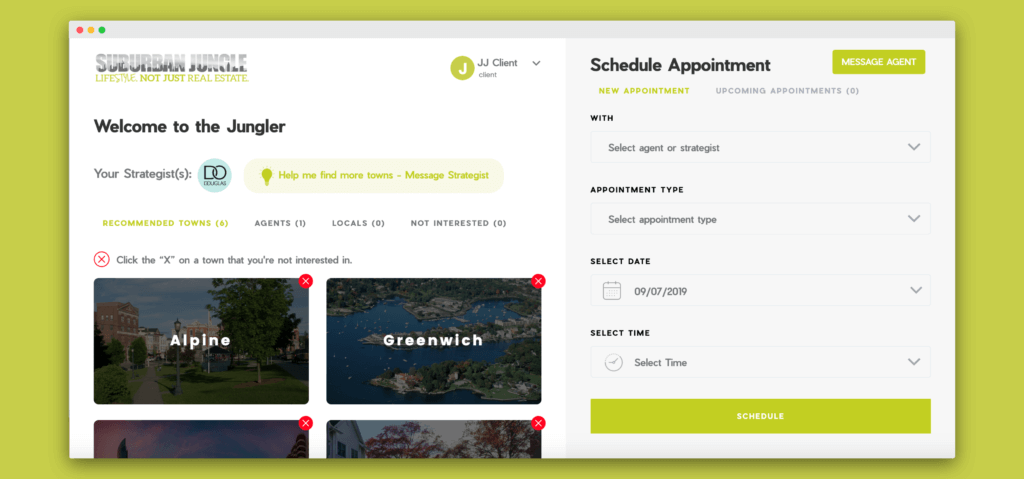 SBJ also has a 5-star iOS mobile app for clients, agents, and strategist that allows them to access their Junglers on the go.
Reliable Bits has been building Suburban Jungle's tech for the last 2+ years and is expected to build cutting-edge scalable technology as Suburban Jungle grows. We have helped launch their sister site Urban Jungle, which is poised to have the same success as Suburban Jungle. With over two years of data and helping match thousands of clients find their perfect neighborhood, we are building more automation to help match customers with their perfect town through advanced AI technology.

We are so proud of what we have built with Suburban Jungle and are excited to continue to watch the company thrive and help people make one of the most important decisions for their families.